Elsheikh vs Imam Feature Documentary
"This Film is dedicated to those who lost their lives pursing the freedom & salvation of Egypt."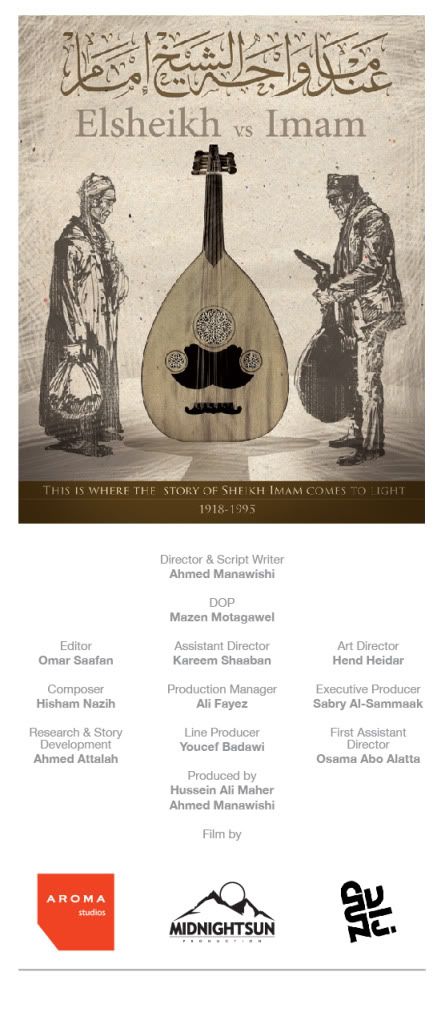 About Sheikh Imam
Egyptian Citizen – Imam Eissa

Imam was raised in a "pretentious" spiritual environment, a world mirrored by religious fanatics. In such supposedly utopian environment, someone tries to rape Imam, a Sheik - his teacher – his coach, someone who knows the book of God by heart and teaches it.

This incident ignited Imam's potential to fight everything that is, counterfeit. He created enemies out of ignorance, fear and desperation. He fiercely fought the masks that Politicians and religious men wore to deceive the public.

The blind Sheik had his weapon ready for these menacing enemies, and his weapons nothing more than his Oud, his music and his voice.
Sheikh vs Imam Documentary

The film "Sheikh vs Imam" deals with the notable artistic journey of Sheikh Imam Eissa. But, it includes another trip that is not less significant to the movie's build up; a visual trip that accompanies the whole 90 minutes of the film. The exclusive stories and memories of Imam melt in images made with the latest technology in graphics and visual effects, to mold the documentary in perfect harmony.

Alongside the artistic dream-like formation of the film, it will also highlight the beliefs that Imam lived abiding by, the similar convictions adopted by the youth who led students' demonstrations in several countries worldwide during the late 60's and 70's… What we now know as the voice of freedom and democracy.

The music re-orchestration that will be done to five of Imam's songs is just another proof of how Imam - albeit in the 60's - was contemporaneous to the youth who ignited the first sparks of the Egyptian Revolution, the ones who revolted against the oppression that spanned for more than 5 decades.


Director's Note Shiekh vs Imam: Why?

Feeling lost, like an outcast in the world of mainstream and commercial arts, I created this project with utmost passion and was turned down with utmost indifference. But I am determined to make this picture complete, because the subject of this film is not only dear to me as a filmmaker but it's dear to me as a human being. I have been touched by Imam's grace as child, I grew up to his music, and his influence. He knew closely my father, they shared similar opinions, and suffered both the consequences through being imprisoned. He intimately participated in shaping the person and the artist I am today.

His story will touch every fellow human being concerned with freedom and justice. Sheikh Imam, who was exploited by corrupt religious men, imprisoned for years, his music banned in the Arab region, is an icon of rebellion. Imam did not come back today only through out my attempt to make a documentary about him, he rather came back through his words of freedom echoed in the later Arab Spring revolutions. He came back through those who never forgot to fight for their rights, those who chose to never forget the voice of freedom.

I am here to capture this glorious moment, my film is an attempt to put the spot on an artist who deserved it most but was exempted recognition, deliberately, by those who benefited from political corruption and dictatorship. This project helped me discover fertile grounds for innovation, creativity and experimentation, amidst the upheaval engulfing the region. I am inspired by this period of uprising, my film is inspired by a freedom fighter, my directorial vision is inspired by the innovation of mixing various media arts, my film guests are moved by what Imam represents. I dedicate this piece of work to my fellow citizens who lived every word this man has ever said in their search of the most precious human value: Freedom.


Ahmed Manawishi / Film Director